Partial Re-Opening on March 14th 2021
God's Grace Community Church will be partially re-opening!
What does that look like?
Included below are a few guidelines we all will be following to ensure a safe and successful re-opening.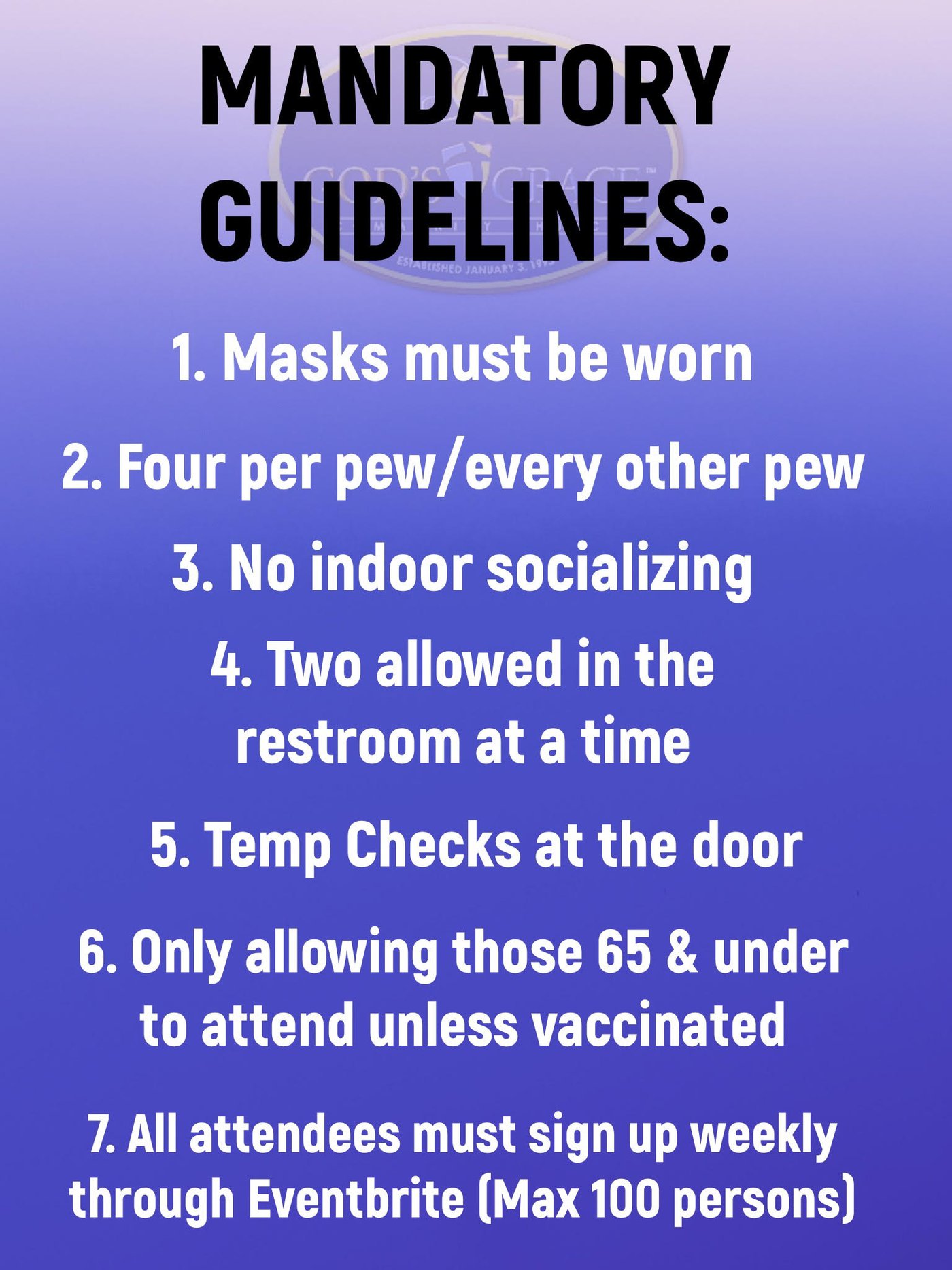 ALL ATTENDEES MUST SIGN-UP WEEKLY. Children must also be included individually in the sign-up process in order to attend service.
To sign-up yourself and you family, please click the Eventbrite Link below.
As COVID-19 cases continue to decrease and vaccination becomes more accessible to all, we will keep you updated on our plan for a full re-opening in the Fall.
For any additional questions, please contact us here.
We love you, we're praying for you, stay safe, and we hope to see you in person soon.
_______________________________________________________________________
Special Announcement From Bishop Steven L. Thompson
GGCC Outdoor Worship Service
Sunday June 7, 2020
Security Staff & Deacons: Parking Lot Detail (Parallel facing the building): RESPECT the security!
Opening Welcome: JoAnn Thompson & Angela Thompkins
Open Prayer: Pastor Clarence Thompkins
Homily: Dr. Tyrone Bostic
Music/Worship Team: GGCC Team
Testimony:
Ministry In Word:
Call to Discipleship: Open
Worship In Giving: Deacon Anthony Hill
1. Please everyone bring your masks & respect the 6' social distancing.
2. You may get out of your cars if you choose or remain inside with your windows down, but bring your own chairsif you decide to get out. Chairs will not be provided by the church.
3. The business side doors will be open for those needing to use the men's or ladies restrooms &/or fountain water.
4. There will be no children's church or infant care made available.
5. Services will be from 11 am to approximately 12:15 p.m.
6. Please invite others to come and share our video announcing the services this Sunday.
7. Any questions please call the church at 317-549-9123, email godsgracecommuitychurch@gmail.com, or website at www.godsgraceccindy.org.
God bless,
Bishop Steven L. Thompson, Senior Pastor
_______________________________________________________________________
May 1, 2020
Be sure to join the GGCC family on Monday's and Wednesday's at 9pm est for prayer and words of encouragement.
The Prayer Line is a time for us to gather as the body of Christ and prayer as one.
Dial in: (425) 436-6352
Conference code: 778715
If you have prayer requests, please submit them here.
We look forward to you joining us!
_______________________________________________________________________
March 24, 2020
Greetings Everyone;
Due to the Indiana State shut down we will be conference calling on tonight for our Tuesday fellowship. Join me this evening at 7 p.m. for our regularly scheduled service time. We will meet regularly on Tuesday evenings by conference call until notified otherwise. Lord willing I will have pertinent information ready to share at that time. Please follow the guidelines set in place for conference calling, so everyone may be able to hear and participate in our lesson and time of fellowship together.
The GGCC conference line number & code:
712-770-5505
Code: 170073#
Please keep watch via email, GGCC website, FB, Twitter, and Instagram for updates regarding pertinent reports effecting our community.
Thank you and God bless.
Sincerely,
Bishop Steven Thompson
9425 E. 30th Street
Indianapolis, IN 46229
O: (317) 549-9123 F: (317) 549-8979
Steven L. Thompson, D.Min., Senior Pastor